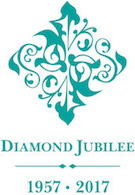 The Aga Khan Academies invite you to join us in two exciting initiatives beginning on 11 July 2017 in honour of the Diamond Jubilee of His Highness the Aga Khan – the founder of the Aga Khan Development Network and the visionary behind the Aga Khan Academies.
 
One of these is a year-long journey inside the Academies that will highlight experiences and reflections from Academies' students, alumni, staff and friends.
Please click here to see the Jubilee Journeys.
The other features 60 Stories for 60 Years, highlighting some of the many people whose lives have been profoundly impacted by the Aga Khan Academies.
Please click here to meet some of these inspiring individuals.
You can also like us on Facebook and follow us on Twitter @AKAcademies to see the daily posts.