Yasmin Khan: Mentoring the future leaders of the developing world
When Rumi first arrived at the Aga Khan Academy in Maputo, Mozambique as a new student recently, she felt overwhelmed. She'd come from Hyderabad, India, where she'd attended an all-girls school. She wasn't accustomed to such a diverse group of peers or the International Baccalaureate (IB) programme, which encourages students to take control of their learning through reflections and to voice their opinions as part of the learning process.
Upset that she couldn't keep up with the others in her class, Rumi sought out Yasmin Khan.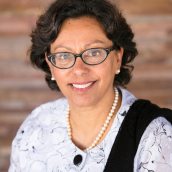 Yasmin recalls the moment well, conversing in Hindi.
"I said, 'Okay, you're feeling bad about it and want to improve your English. No problem. Here's a website. Here are some books. You can do it. I'm here whenever you need my help, just call me anytime.'"
Being able to speak the language of the student certainly helps. The Academy, being a bilingual school, accepts and validates the home languages of all the students.
Yasmin's dedication to Rumi was not a one-off act of kindness. In fact, reaching out and being there for the students at the Academy is something she prides herself on.
A journey in education
Yasmin joined the Academy in October 2016 through a partnership between the Aga Khan Academies and the Ontario Ministry of Education in Canada. In her role, she "wears three hats." She supports the other Academy primary teachers, teaches English to grades 6 and 7 and mentors Maputo public school English teachers in the vicinity whose schools are partnered with the Academy, through its Professional Development Centre.
Yasmin's journey to Maputo wasn't direct, rather she came full circle as she is a product of Aga Khan schools, too. After Yasmin finished her schooling in Mombasa, she left Kenya to pursue a university degree in science in London, later also studying at the Institute of Ismaili Studies (IIS), before eventually moving to Chitral, Pakistan with her husband who happened to be from Chitral and from then on, the limitless field of education unfolded for her. Her time in Pakistan saw her working to advance religious education within the Ismaili Muslim community's religion teachers there, but it also gave her a chance to explore secular education through volunteer work at Aga Khan Education Services schools in the Northern Areas of the country.
"That is where I saw firsthand how resilient teachers with limited resources were committed to their students and what a difference it has made," Yasmin said of the experience. "I have seen how education has changed the destiny of people in the northern areas in such a short span of time. This is what inspired me to pursue teaching in secular education later in life and the desire to use my skills to inspire other communities in the world to enhance their quality of life through educating their next generation." 
She'd go on to move to Toronto, but would make a habit of returning to Chitral to share her skills and enhance the quality of education there whenever she could. Working with teacher colleagues in Mongolia and Guyana through Project Overseas, a program of the Canadian Teachers' Federation expanded her experiences of teaching and learning in the developing world.
"I saw how much potential there was and how much I could do," Yasmin said. "And that was my motivation. And ever since, I haven't looked back. 
So when the first Aga Khan Academy opened up in Mombasa, it became "a dream" for Yasmin to work at the Academies. The Aga Khan's mission aligned well with her own personal one, both as a teacher and as an Ismaili Muslim.
Her dream eventually came true with the Ontario partnership. And it's not lost on her today.
"The best part is the gratification I get working with the students, and also working with the teachers," Yasmin said. "I just love the way they welcome me into their class. And every day, when I'm there in front of the teachers and the students, mostly, I'm reminded of [the Aga Khan's] vision that these are the kids who are going to be future leaders of their country. And they are the ones who are going to be impacting change. And the fact that I'm here, there in that process -- that I'm part of this in a very minute way -- that realisation brings immense fulfillment to me."
But it hasn't been easy.
A typical day for Yasmin is a race against time.
She begins each morning with the primary teachers – four classes, one each period. Then in the afternoon, she teachers her own grade 6 and 7 classes. Next she goes to the local schools. Finally, every other Saturday she facilitates a workshop for English teachers.
There's never enough time to spend with the teachers, she said, but she manages to make it work, using her free time to check in and continue to mentor the teachers – and students – when she can.
Collaborative and active teaching methods
Having taught in the Northern Areas of Pakistan, Yasmin felt "prepared in terms of working in a developing country and trying to enhance the quality of education." But the public schools were a whole new ball game, as was trying to learn the needs of a fairly new Academy in a country she was not as familiar with. 
To mitigate this, she asked a lot of questions. She interacted with students and tried to learn about their lives and what mattered most in Maputo. And she adapted her curriculum to make it relevant to what she had learned.
One such example is a book "The Boy who Harnessed the Wind" she chose to teach about a boy in Malawi building a windmill for his community and solving problems by taking action.
"That was my anchor text when teaching a unit on Energy to Year 4 students," Yasmin said. "And then we could gear our discussions to the situation in Mozambique, for example…I was very conscious of choosing the materials I thought would be in line with the IB curriculum and the African context."
Some of the other units focused on ecosystems including preserving mangroves along coastal Mozambique, expressing diversity through writing traditional stories, understanding social justice issues and taking meaningful action and spreading awareness.
Developing literacy skills of students has been instrumental to Yasmin's contribution to the Academy, especially because many students are not exposed to English outside of the classroom and struggle to balance it with their national language, Portuguese and other native languages.
She's introduced differentiated learning, use of scaffolding techniques, vocabulary building activities, meaningful use of graphic organisers, explicitly modelling reading/writing strategies, guided reading and literacy centers and is already seeing positive results in just a few months. This, she hopes, will inspire teachers to continue to use these best practices even when she's gone, especially now that they can see the direct impact it has on the students. 
Meanwhile at the public schools, Yasmin is trying to make more room for collaborative and active learning by the students. This is tricky in a climate that often favors lectures instead of discussions, but she's determined to make the classroom more friendly for students to ask questions because she believes that's crucial for their academic success. The one thing that continues to inspire her and which she shares with teacher colleagues in Canada is the commitment of teachers who struggle to make a difference in the lives of 70 – 80 children in the class with no additional support. 
Hopes for the future
She hopes in the future there can also be more interaction between the local school students and the Academy students. She has books she's brought from Canada and envisions the students reading together, perhaps during a unit on social justice. 
For now, Yasmin uses her experience at the public schools to remind the Academy students how fortunate they are.
She tells them that if they take their education here seriously, they will be "prepared for the best education that they can get in the world… They will be able to do anything they want. They will be able to realise their dreams."
Yasmin hopes they will secure scholarships to attend the best universities abroad and then return home to make an impact in their community.
And she hopes the teachers, when she leaves this summer, will still remain motivated despite the hard work ahead of them. That her personal sacrifices -- like missing out on her granddaughter's milestones -- will inspire them to persevere. 
"This is the [Aga Khan's] legacy," Yasmin said, putting her own sacrifices into perspective. "This is something big. It's going to help their country."
When she leaves Maputo, Yasmin says she'll miss these moments and the children -- their energy, their curiosity, their respect for diversity -- the most. And she'll miss the fulfillment of being a part of this process. 
She'll take with her to Toronto, among others, the memories of assisting Oldemiro, a bright student who joined the Academy from a public school and couldn't speak a word of English. She'd taped her voice reading books for him so that he wouldn't feel left out. And Oldemiro excelled. 
"I think we've really bonded," Yasmin said. "When he has difficulties, when he feels down, he comes to me, and we have a chat and he feels good. … he sees me as somebody who keeps encouraging him, and so I feel like I've made an impact in his life."
As for Rumi, Yasmin said she'd recently performed a dance to Mozambican marrabenta music wearing the capulana, the traditional Mozambican material. Rumi'd never worn the sarong-like clothing before, and she was nervous. She'd come running to Yasmin for encouragement. As usual, Yasmin was there to give it.
Rumi went back to the stage and danced with her Maputo classmates. Her eyes were glued to the audience, to Yasmin, her rock. And as she danced, she smiled.
By Farah Mohamed