Peter Mbuga: Watching Leaders Grow
"At the Academy, the students are taught to be self-supportive. The world is changing and they are being groomed for change."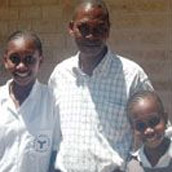 Peter Mbuga is proud to have seen the Aga Khan Academy in Mombasa take shape in front of his eyes, and he could not be prouder of his two children who attend the Academy. Stephanie, grade 8, and Amy, grade 2, transitioned to the Academy after finishing their early education at Aga Khan Nursery. "The nursery is famous for serving kids of diverse backgrounds," says Peter, "and children who go there are known to fit nicely anywhere."
Peter feels that being at the Mombasa Academy has instilled confidence and necessary life skills in his children. "Both of them are student leaders in their respective classes," says Peter. "They demonstrate great leadership skills." Peter is appreciative of the fact that at the Academy, the focus is not just on academics but on the whole child. "Here children are taught a variety of skills: how to be independent, how to interact socially, how to research their own work and explain why they did a thing in a certain manner," says Peter. "They are taught to be self-supportive. The world is changing and they are being groomed for change.
But it doesn't stop there. The Mbugas discovered that being at the Academy has heightened the sense of responsibility and independence in their daughters, making them more aware of the world around them. "If we are a bit late and the children are home early, we find that they have started the basics for the evening meal without us saying anything," says Peter. "Or we see that they have started working on their homework."
The transition to Primary and Middle Years Programmes (PYP and MYP) came easily to Peter and his children. "We went to a workshop on PYP and all our questions were answered," says Peter. "For the MYP, we again attended a workshop to get better acquainted with the program, and we now have a solid understanding of the programme and are pleased that our daughter will be part of it."
Peter finds the teachers at the Academy to be very skilled and child-centered. "When and if we have any problems, we feel comfortable in going to them and getting immediate support," he says.
Peter is also an active volunteer parent and was in the executive committee at the Aga Khan nursery for years. At present, he is a treasurer of the parent committee. "We sensitize parents to approach us," says Peter. "We convey their concerns to the relevant parties and find that we are always listened to with an accommodating point of view."