Amsal Lakhani (Class of 2014): Helping Propel A Region Forward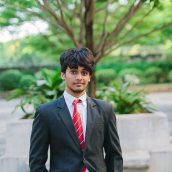 What Amsal Lakhani will remember most about his time at the Aga Khan Academy, Mombasa are his math lessons.
"Our Sensei Daniel wouldn't train us for exams, but for a battle," he says. "We'd hear war analogies and pithy statements about training hard and fighting easy. It was really a huge highlight of my two years…just the dynamic and the energy… to keep persisting and to fight it out – in a mathematical way."
A recent AKA,M graduate, Amsal plans to pursue math at Columbia University this fall. Math is one of his passions, he says, and his classes at the Academy have helped solidify his decision to major in the subject at university.
"The advantage of having a background in math is that it allows me the opportunity to diversify a little bit," he says. "I wouldn't mind doing a bit of start-up work around here or working for an established not-for-profit – an organisation that's propelling this region forward whether it's private or not-for-profit."
Amsal arrived at AKA,M in grade six, having lived in variety of countries, including Pakistan and Tajikistan. Home is still tough to define, but thinking about life and the impact he wants to make on the world have become something he does more often.
In fact, he says one of his major goals at university is to "learn a bit more about myself and the areas that interest me."
That sense of self-awareness stems from his time at AKA,M, he says.
"I've become a lot more reflective in the last few years, and that's largely due to the Academy," says Amsal. "The curriculum, the teachers, they encourage reflection not only formally but also in the way our actions impact the world around us. I'd say it's made it harder to make decisions for me, but I welcome that pause, and that's a part of the Academy that will stay with me for a long time.
After university, Amsal plans to spend some time honing his skills in the corporate world and then pursuing more education, perhaps in public administration or law. He's also been very involved in Model United Nations at the Academy and says he would like to eventually return to the developing world and focus on economics and development.
This desire, he says, is also very much due to his time at the Academy.
"The Academy and the curriculum not only fuses ethics and morality into the way we learn, but teaches us to question what these ethics actually are. What they stand for….I'd like to carry morality into my career and impact the lives of as many people as I can but in a way that's meaningful, sustainable and effective.
One way he says he could make an impact in Kenya is by working with leadership in youth in matters of development.
"I think providing access to education and civic engagement programmes to align individual values with those of communities and the nation is something that's really important for Kenya as we're moving ahead," says Amsal. "And I think if the next generation of leaders in politics, in business, health care – if they have not only strong competencies but also a robust sense of civic duty, together they could transform the economic and social landscape of Kenya."
In addition to math and international development, the Academy – especially his math classes – has taught him to value perseverance and a strong sense of community.
"The IB hasn't been a walk in the park," says Amsal. "When you're that challenged academically this way, you start to think that you can handle anything that they throw at you. And I guess through that I've kind of gained a go-for-it attitude during my years here. I'm sure university will be more challenging academically and otherwise, but I'm really looking forward to the new and exciting challenges that come my way."
Amsal's aware of the culture shock that awaits him when he arrives in New York City, but he says he knows that he'll be okay because of the grounding he has from AKA,M.
"With culture shock I do need a strong bed of values to fall back on, which is where the Academy falls back in," he says.
Regardless of what happens at university, Amsal has big ambitions for the future – and he's well prepared for this battle, thanks to Sensei Daniel.
"I want to return to the developing world because that is where I spent most of my time growing up, and I think the landscape here in Kenya is something that I really enjoy," he says. "From the vantage point of a high school student, there aren't many claims I can make about the future, but with strong leadership and creativity in both the private and not-for-profit sectors, the region can really go forward – and that's what I want to be a part of as I go forward."
By Farah Mohamed