Anushri Pendiala (Class of 2014): The Best Decision She Has Ever Made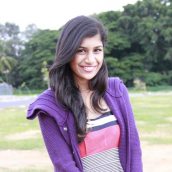 For Anushri Pendiala, going to the Aga Khan Academy in Mombasa was the best decision she has ever made. Anushri graduated from the Academy in 2014 and will begin her undergraduate study at the University of California, Los Angeles (UCLA) in the fall. She plans to major in chemistry. After pursuing graduate studies, she hopes to eventually move back to India, her home.
Initially, Anushri says, she was unwilling to even consider the Aga Khan Academy because she was tired of moving and changing schools every two years due to her father's job in an international garment factory. However, just one visit to the Academy changed her views.
"It took one look at the Academy to change my mind. I was extremely impressed by the infrastructure and the welcoming warmth the admissions staff radiated, and almost immediately, I could see myself being a part of the school. While I walked in crying on the day of my interview, unwilling to be a part of a new school, I walked out prepared and confident to start a new journey at the Aga Khan Academy, Mombasa. That was probably the best decision I've ever made."
Anushri believes the counselling and teacher support she received at the Academy played a major role in her admission to several reputable institutions around the world. In addition to UCLA, Anushri was also accepted to various universities in Great Britain and Canada, including the University College London and the University of Toronto.
Anushri credits the International Baccalaureate (IB) program at the Academy for feeling confident and well-equipped to take on future challenges. She feels that with the tools she acquired at the Academy, "nothing is impossible."
"The IB definitely tested my limits and challenged me in so many ways – I've managed to produce pieces of work that I never thought I would ever be able to, and I've learned to organise my work whilst managing time."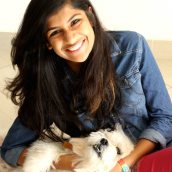 While at the Academy, Anushri pursued her passion of fighting for the rights of animals. She started Anicare, a club dedicated to protecting animal rights, and worked in conjunction with the Kenya Society for the Protection and Care of Animals (KSPCA) in Mombasa. She says the Academy encouraged her endeavour and also provided assistance.
"The Academy was very helpful in supporting this club by providing transport facilities to make trips to KSPCA and in organising bake sales to raise money for the (Anicare animal) shelter."
When she returns to India, Anushri hopes to work towards changing societal mores and traditions that subjugate Indian girls and women.
"Personally, I would like to positively impact my fellow Indian community by changing their attitudes and mindset towards certain aspects of life. Until today, there are practices that take place in certain Indian communities such as dowry, child marriage, female infanticide and a lack of importance towards education for young girls. Although on one hand, I aspire to potentially give back to the community through the world of science and the discovery of treatments to improve their welfare, on the other hand, I feel it is extremely important to help them understand a different perspective in their ways of living – one that is not entirely bound to tradition and an understanding that as our human race evolves there are a few aspects of our ancient practices that must be left behind."
By Perviz Walji