Bevertone Ochieng - A Different Kind of Opportunity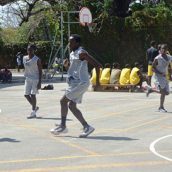 When representatives of the Aga Khan Academy, Mombasa came to speak at Bevertone Ochieng's elementary school in Kisumu, his ears perked up. A diligent student, he'd planned on taking the Kenyan national examination for high school and hoped to attend a good government school – if he got in and his family could afford it. But he quickly realised the Academy offered a completely different type of opportunity.
"I felt the natural beauty of the school," Bevertone says of his experience researching the Academy before applying. He was excited about the school's academic approach: instead of emphasising memorization of information, like most other Kenyan schools, the Academy focuses on helping students improve their understanding of a topic and learn how it applies in the real world.
After going through the Academy's rigorous selection process, involving interviews and a range of assessments, Bevertone was one of five to win a full scholarship to the Academy in 2010.
Four years later, the Academy has helped him discover a whole other side of himself, he says. In addition to joining the sailing club and playing basketball – a sport he'd never dreamt of playing – for the school team, Bevertone has discovered a talent for public speaking. While he once feared speaking in front of crowds, he has since won certificates and awards for his speeches. Encouragement and coaching from Academy teachers helped him come out of his shell. The school has also given him a chance to explore his love of politics and the humanities.
"I enjoy critiquing politics and decisions made by politicians," he says.  But, since being a politician is a thankless job, he has set his sights on a career in diplomacy or economic policymaking for government.
By Alia Dharssi