Charles Gumba: Finding Gratification Beyond The Classroom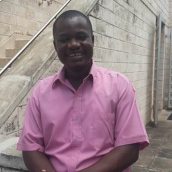 If there is one concept that physics and science teacher Charles Gumba is determined to impart to his students, it is the interconnectedness of all things in the universe. He feels his students at the Aga Khan Academy, Mombasa, are entirely adept at grasping this truth and "are quite reflective on the concepts they learn."
A graduate of Kenyatta University, Charles joined the Academy in 2012, bringing with him more than a decade of teaching experience and a fierce determination to inspire young people and "make a difference in their lives." He is currently pursuing a Master's degree in science at Kenyatta University.
Well respected and highly appreciated by both peers and students, Charles teaches classes ranging from Year 6 to higher level Diploma curriculums and "loves every minute of it." For Charles, student approval means a lot. "Having the sense that my students appreciate my efforts is priceless. It is the most rewarding aspect of teaching at the Academy."
Charles is resolved to cultivate in his students an appreciation and love for physics and science. He often conveys to his students "to take a moment when walking on the street or in the school or sitting somewhere to recognize and acknowledge all the physical forces of nature surrounding them such as the energy from the sun or the electricity moving through a wire or the radio and sound waves being emitted from a device." Charles is confident that the theme of interconnectedness of life and dependent relations that define all things resonates with his students and evokes empathy in them.
"They are the times I hear my students using what I have taught them for personal enrichment outside class like in games when they discuss about using physics concepts to hit a ball, or when at the commons having lunch and joking about a new concept that they learnt in class. It is the times I see in their eyes the look of true compassion and understanding of the world around them by reflecting on the knowledge learnt in physics class. These accomplishments extend beyond my classroom."
Charles's own road to success started from modest beginnings. He attributes his attainments to his father and his own ambition to motivate others.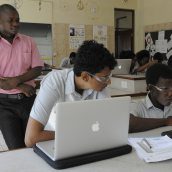 "I came from a humble background where the virtue of inspiring people around me was really the foundation of life. My father was a teacher and through him I learnt about the importance of acting as a role model and influencing people around me."
It was Charles's dream to encourage young people and be a genuine example to them that drove him to pursue his profession. He said he wanted to "inspire each student individually" and instill in them that they all "possess varieties of talent."  
What attracted Charles to apply for a position at the Academy was the institution's approach on providing holistic education. Charles wanted to be part of this challenge of offering students "an education of an internationally recognized standard of excellence to prepare students to become intellectually curious, global-minded citizens of the world."
For Charles, one of the chief characteristics that makes the Academy exceptional is its programme offerings.
"The Academy programmes develop students who are committed to positive change and are able to understand and analyse complex issues of local, national and global significance."
Charles also values the professional development program that the Academy provides for teachers. He states, "Since no one has ever finished learning to teach, continued improvement is a priority of any effective teacher."
By Perviz Walji