Esther Nondi: A Passion for Teaching and Learning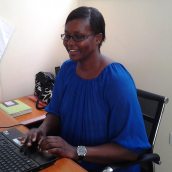 "When I started my teaching career, I discovered that I truly enjoyed working with young people."
Reflecting on her career choice at the Aga Khan Academy, Mombasa, Language and Literature teacher Esther Nondi says she had initially wanted to pick Law as her profession. However, it was her mother who persuaded her to go into teaching.
"Actually, I wanted to be a lawyer, but my mother convinced me that I would make a good teacher. At first I did not want to give it a try, but later on decided to go to Kenyatta University where they were offering the Bachelor of Education course. To my surprise, I enjoyed the courses, and even enjoyed the teaching practice, which is a must for those who were pursuing a degree in Education in Kenya. When I started my teaching career, I discovered that I truly enjoyed working with young people and right now I would not trade my teaching career with law, one that I had wanted to pursue!"
A graduate of Kenyatta University, Esther majored in Language and Literature. In 2003, she joined the Academy, bringing with her nearly a decade of pedagogical experience and a passion for teaching and learning. Currently, she instructs classes ranging from grade 6 to higher level IB curriculums and first year Diploma Programme.
For Esther, one of the principal traits that attracted her to the Academy was the unique emphasis the institution places on offering programmes that foster professional development of teachers."I was attracted by the commitment of the school to providing professional development to teachers. I had seen how teachers had several opportunities to develop professionally through various programs, which I did not have the opportunity to enjoy in the schools I had taught in."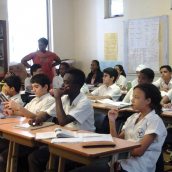 Esther believes it is important to inspire students and make them realize their capability. To this end, she employs several strategies.
"First of all, I always encourage my students by letting them know that each one of them has the potential to excel if they put their minds to whatever it is that they have to do. In academics, I tell each student to compete against himself/herself. I make them keep a record of their scores over the course of the year and ask them to keep reflecting on areas they need to improve on, and devise ways of improving."
As a dedicated and caring teacher, Esther knows that she is responsible for imparting some of life's most important lessons to her students. She shares her passion for learning with them and carefully guides them. She also uses role models to help them grow.
"When students are involved in planning how to improve, they are more committed to it and there are always good results. In other areas, like extracurricular activities, where possible, I use role models in our society whom they can associate with and emulate. Reading about people they know who have succeeded or meeting people they know who have succeeded and hearing their stories is a great motivation."
Esther has nothing but praise for the Academy's residential programme which she believes fosters leadership skills in students and gets them involved in their communities."It is a great programme for them, which helps them become more independent, discover and use their leadership skills and involve themselves with the community."
She believes the Academy's unique dedication to seeing itself as being a part of the local community and not an "island" within the populace helps with this process. "It is our vision of becoming an integral part of the community in which we reside. The fact that we involve ourselves with the community in every way sets us apart, as different from other educational institutions. We are not 'an island' within our community but rather are an integral part of the community. Through our community and service activities, we are able to interact with the community."
By Perviz Walji