Farah Charania (Class of 2012): The Pursuit of Success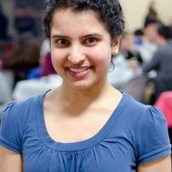 There are many keys to success: strong values, ambition, a support system, a clear vision, and of course, a good education. All of these make up the path to success, and for Farah Charania, her time at the Aga Khan Academy in Mombasa allowed her to obtain many of these keys.
"I learnt and took back something from every aspect of my time at the Aga Khan Academy. The residential programme shaped me into a principled and caring person. As a dorm captain, I had the opportunity, as a leader, to look out for my peers. This was an opportunity to build my leadership skills and manage my time, skills that have come in handy at university. The IB programme made me a critical thinker and inquirer, and being a rigorous programme, I was able to handle the work load at McGill."
As a recent graduate, Farah has had the opportunity to reflect on her time at the Academy in Mombasa. One of the most important things she's taken away from her time there is the ability to adapt and keep an open-minded and multicultural outlook.
"The staff at the Aga Khan Academy is multicultural, and learning from my teachers' experiences made my task easier in choosing where I wanted to go to pursue my post-secondary education. Furthermore, being part of a multicultural community, one in which people came from different backgrounds, settling into a more diverse community wasn't too difficult, and indeed the Aga Khan Academy managed to mould me into a more open-minded person."
For many students, choosing to pursue education outside of their home countries and even their hometowns can be a daunting endeavour, especially when one chooses an institution in a society very different from the one the student is coming from. For Farah, however, the Aga Khan Academy experience facilitated a seamless transition.
"Being away from home for two years in order to study at the Academy made me an independent person. I had to do things for myself and make my own decisions, which moulded me into a mature person. One of the key things I took back from the Academy was keeping a balance in my life. What made my transition a little easier than some of my peers here was the fact that I could keep a balance in my academic, social and spiritual life."
Beyond her post-secondary education at McGill University, Farah plans on pursuing an MD and putting her education and worldly experiences to good use.
"My plans [as of now] are to join medical school. Home to me is Uganda, and I strongly believe that once I achieve my goals and set a strong foundation for myself, I will return home and serve my community as a way to give back and contribute to the well-being of the people. My biggest achievement will lie in touching people's lives back home and ensuring that they live healthy and happy lives."
By Uzma Rajan