Isla Gordon: Nurturing Learning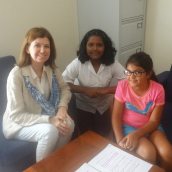 In January 2015, the Aga Khan Academy, Mombasa welcomed Isla Gordon to their community as the new Principal for the Junior School. Isla is an accomplished educator who previously worked at the International School of Geneva for 16 years in various capacities. She started as a classroom teacher and later also took on Vice Principal responsibilities. She is highly experienced as a consultant for the International Baccalaureate and has traveled widely in her role to bring the IB Primary Years Programme to many schools in different countries.
A fortnight after she joined the Academy, Isla sat down for an interview with two Year 5 students, Ibdita Hotta and Mishal Lalani. Here are a few things they talked about:
Ibdita: Why did you choose to come to the Aga Khan Academy, Mombasa instead of any other school?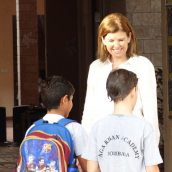 Isla: Believing in the vision and plans for the future that the Aga Khan Academies have, I was interested in any of the Aga Khan Academies. At the time, there was the possibility of the one in Mozambique as well as here in Kenya. When I was offered the job in Mombasa, I was delighted! I had heard that Mombasa was a beautiful place to live, and it is a city that is very interesting with all the different cultureal influences. I was pleased to come to work at the Academy because it was the first Academy to be opened. The school has a good infastructure and I knew I would be part of a fairly big team working here.
Mishal: You have travelled to many countries. Would you like to share your working experiences in those countries? 
Isla: The last country I worked in was in Switzerland at the International School of Geneva. I started working there in 1999 – 16 years ago – so I was there a long time.…Otherwise, I have worked in other countries but mainly in Europe – Scotland, England, and France.…When travelling in other countries on holiday, I would also look at opportunities to return to work with the community and with children in these communities, in particular in Morocco. My work with the International Baccalaureate has taken me to many places and I have supported schools in something called school evaluation and authorisation visits.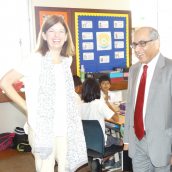 Mishal: How many languages can you speak and which ones are they?
Isla: I speak French and English – English is my mother tongue. I speak and write French fluently, and I studied German when I was at school. And I am hoping that I'll start to pick up some Kiswahili! At the moment, I only know ten words. I have given myself a goal to learn five new words a week.…So far I'm okay with my goal, but I'm going to have to find five new words this week.
Ibdita:  What was your first impression of AKA, Mombasa?
Isla:  It was very peaceful walking in here, after the busy streets of Mombasa and all the traffic of Mombasa. You suddenly come through the school gates, and it's like an oasis of calm. The other thing that struck me was how friendly people are here, and how confident and very warm and friendly the students are.
Ibdita: Please can you tell us five movies you recently enjoyed?
Isla:  That's a good question! One of my favorite movies of all time is The English Patient, but that was not so recent. A Man From Snowy River, that's an Australian one. Out of Africa – I had to watch it because I was coming here. Breakfast at Tiffany's – I really like Audrey Hepburn! And…let me see. It's a French movie actually, Le Fabuleux Destin d'Amélie Poulain. How's that? Do you recognise any of those movies?
Mishal: No.
Ibdita: I don't!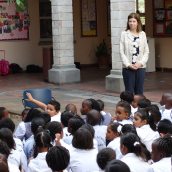 Mishal: What do you hope to achieve in your time at AKA, Mombasa?
Isla: To give our students the best learning experiences in life possible.