Jane Achieng Okoth (Class 2009): Getting Equipped to Serve Others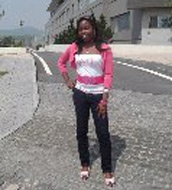 Jane Achieng Okoth, a graduate from the Academy in 2009, is currently pursuing an MBBS (Bachelor of Medicine, Bachelor of Surgery) degree at the Dalian Medical University in Dalian, China.
She gratefully remembers her teachers at the Academy and values the IB curriculum since it trained and prepared her for university life. "The Academy changed me into an open-minded person, a great value that I have learned to appreciate here in China because I am surrounded by people from different countries and by a completely different environment," she says. "My current classmates are often asking me where I learned to organize my work, conduct research and write my lab reports with much detail. I always tell them that I had the chance to attend the best school and that is the Aga Khan Academy."
After her graduation in 2015, she plans to go back to Kenya. She would like to start immediately with volunteering her services at free clinics while pursuing her Master's degree part time. After her Master's degree, she intends to work in Kenya where medical services are much needed. Jane aspires to obtain her PhD and conduct research work in the future.
At the Academy, Jane was involved with many community service projects, including repainting a school and administering de-worming medicine to children in Bombolulu. She enjoyed working with children from the orphanages and at the Aga Khan Hospital, Mombasa where she volunteered in the pediatrics ward. She also helped the hospital conduct research on the efficiency of its services. "Every community service project I took part in was special to me, and I am proud of all I did, big or small, as long as I touched someone's heart and helped someone out," she says. Jane misses the teachers and students at the Academy. "I miss the kind of relationship I had with the teachers in the Academy because I haven't been able to find any like it here," she remarks.
At Dalian Medical University, China, Jane is the General Secretary and the Kenyan student representative on the International Students Representative Council. She plays an active role in organizing sports events, cultural and food festivals, new student orientations and African nights, as well as hosting medical knowledge quiz competitions, performing in a choir, representing the university in dance competitions and editing articles for the university's magazine. Jane's greatest achievement this year was receiving a merit certificate issued by the Government of China for outstanding academic performance.
At first, Jane found it difficult to adapt to life in China because of the language barrier and different cuisine. She also encountered other cultural challenges such as the unavailability of hair products suitable for African hair. However, now she speaks Chinese and eats her food with chopsticks! Jane is looking forward to returning to Kenya. Upon her return, she intends to focus on improving the healthcare system, affordability and access to medical care. She also wants to help alleviate food shortages and set up a fund aimed at offering financial assistance and scholarships to high academic achievers who are unable to realize their dreams because of poverty. "These are just some of the many things I would like to do. Every journey begins with a single step," says Jane confidently.