Johnston Kirimo (Class of 2013): A Legacy to Live By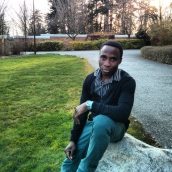 For many, Nelson Mandela was larger than life. A man who stood strongly by his convictions and, through them, changed the world. Beyond his career as a statesman and leader of the anti-apartheid movement in South Africa, Mandela was a proponent of the importance of pursuing higher learning, saying, "Education is the most powerful weapon which you can use to change the world."
Johnston Kirimo has taken these words to heart. Coming from the district of Ganze in Kenya, where low literacy levels contribute to poverty and lack of opportunity, Johnston was identified by AKA, Mombasa as a student with high potential, and was offered financial support to complete his secondary education at the Academy. He has continued on to pursue a degree at the University of British Columbia's Sauder School of Business, and credits the Academy with helping him achieve this goal.
"At [the Academy] I got to take part in activities that were directly building and giving back to the society; especially the CAS (Creativity, Action, and Service) activities. For example, together with some of my friends, we founded the Your Environmental Voice and Making a Difference Project, which were aimed at raising awareness about the importance of maintaining a clean, healthy environment. We also went around helping in garbage collection in Mombasa and built a well in a local school and [started] a food drive to help some of the locals. These are great experiences, which I could not even think about before joining [the Academy]."
As a graduate of the Academy, Johnston had a world of opportunity available to him, but he cautions current students against allowing this go to their heads.
"The opportunities that [the Academy] offers are certainly vital in empowering the students and building that stable intellectual and multicultural background that enables the students to be well-equipped for top universities all over the world. [The students] are achievers, but they should not look forward to an easy and relaxed future. Rather, they have to maintain the same momentum and even increase it for much more success in life."
Even though Johnston plans on pursuing his post-graduate education in a Western country, he believes his legacy, like Mandela's, will take root closer to home.
"I plan to pursue my post-graduate studies in Finance, either in the UK or USA. I want to travel and experience the amazing things in all these other places [around] the world, but I will certainly settle back in Kenya. I want to go back and help improve the lives of my people in my country."
For this young man, Nelson Mandela wasn't simply a man with a dream and lofty ideals, but a role model whose legacy he chooses to live by.
"I plan to maintain the same commitment, passion and sacrifice [as Mandela] towards ensuring that the people of my country have attained better health, education and higher living standards. I hope to achieve this [like he did]: through partnerships with different organisations, and even the government in a way that will ensure these goals are attained." 
By Uzma Rajan