Joshua Tibatemwa (Class of 2015): From Mombasa to Rio 2016
Ernest Hemingway once said, "There is nothing noble in being superior to your fellow man; true nobility lies in being superior to your former self." It was this quote that Joshua Tibatemwa Ekirikubinza used in his speech when graduating from the Aga Khan Academy in Mombasa in 2015. And it seems that he has taken those words to heart even outside of his academic pursuits. Selected to be part of the Ugandan Olympic team, Joshua competed in the 2016 Rio Olympics as a swimmer; his time at the Academy helped him achieve this lofty goal:
"The Academy taught me that difficulty is not necessarily a bad thing. Difficult tasks and challenges teach you how to focus yourself and be efficient in what you do. I needed that."
The Academies pride themselves on providing its students with a diverse and well-rounded education, attempting to instil a passion not only for academic success, but excellence in community service, athletics and the arts as well. Joshua's journey is a testament to this balanced approach:
"The Academy taught me how to balance several things at once, which is of the utmost importance in university. No one pushes you to do things in university so you must be proactive if you want to make the most of the experience, and the Academy definitely taught me to be proactive […] the Academy grew me as a person, not just academically."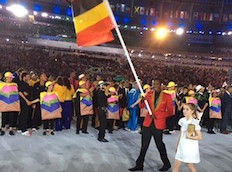 Joshua's ability to find academic and athletic success at the Academy in Mombasa allowed him to pursue even bigger challenges, like competing at the Rio Olympics, a feat made even more memorable when he was asked to be Uganda's flag bearer at the Opening Ceremonies: 
"The opportunity to bear my country's flag on such a momentous occasion [was the most memorable]; I can honestly say I never expected to do something like that." 
Beyond his Olympic aspirations, Joshua is currently studying computer science and economics at Grinnell College in Iowa, USA. He plans to attend graduate school and eventually settle in Uganda in order to focus on creating a more holistic approach to education in his homeland.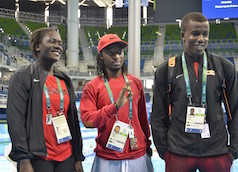 "If I want things back home to change, I have to work to be the change. There is no point in going abroad and becoming successful and neglecting the positive change you could make back home. Therefore, I would dedicate my resources to developing a new curriculum that pays attention to academics but also pays attention to other often ignored aspects of life such as cultural interactions, sports, tolerance of people different from you, etc."
For Joshua, his academic and athletics pursuits have taught him valuable lessons in maintaining balance, while overcoming challenges. To those beginning their own journeys, he would offer these words:
"Do not dwell too much on your failures. They are an inherent part of life. [And] do not attempt to handle too many things at once. Depth is better than breadth in certain circumstances."
By Uzma Rajan