Kelvin Njue Nduma: Eager to Educate Himself and Others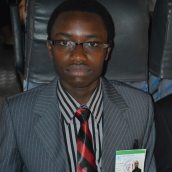 Kelvin Njue Nduma runs in cross country competitions and represents his school at Model United Nations conferences. He takes courses in economics, philosophy and mathematics, and writes Swahili poetry in his free time, exploring sociopolitical themes in the style of Kenyan author Abdilatif Abdalla.
But of his numerous activities and interests, tutoring younger students is especially important to him. Kelvin, a Year 12 student at the Aga Khan Academy in Mombasa, regularly visits local primary schools and helps pupils in Years 1 through 8 with their math, English and reading skills. He sees this community service as the start of a long career dedicated to helping other Kenyan citizens educate and empower themselves.
"I'd like to improve the quality of education in my community and my country," says Kelvin. "I value education so much that I will do anything possible in my capacity to see that people excel."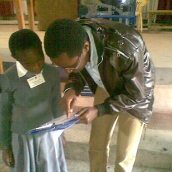 Kelvin, who was born in the Mbeere district of Kenya's Eastern Province and comes from a less fortunate background compared to many of his classmates, feels grateful to study at the Aga Khan Academy. His mother passed away in 2009 after being diagnosed with meningitis, and there were times when his family experienced the food insecurity that is far too prevalent in Kenya. "Sometimes we have gone hungry in a night, and my siblings have missed out on some school days," he says.
But Kelvin gives "a lot of credit" to his father, who has supported him and his five siblings by working as a driver with Serena Hotels, another initiative of the Aga Khan Development Network. Today, Kelvin's siblings include a prison officer, an entrepreneur and a University of Nairobi student, and he is motivated to serve the public after watching his father run for local political office, albeit unsuccessfully, in the 2002 and 2007 general elections. "Seeing him struggle through it has inspired me, and I feel that as an active participant in government, I can try to make changes and improve the situation everyone is in," he says.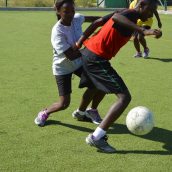 Kelvin came to the Aga Khan Academy, Mombasa through its talent identification process, which selects exceptional students and provides them with full scholarships. He has since been exposed to many unique opportunities and diverse cultures, and has been able to compare and contrast his experiences with Kenya's primary school system and the innovative Academy. "I went from a very different system to a completely new system," he says. "Being through that transition and seeing myself go through those changes has been amazing and incredible."
Impressed by the Academy's emphasis on academic excellence and community service, Kelvin hopes to dedicate his career to improving educational and economic opportunities for Kenya's young men and women. One day he hopes to become, if not a local politician, a "demographic economist who advises government on proper development schemes to undertake." He already has a long list of ideas for how to improve Kenya's schools. For example, he would like to see better financial incentives and retraining opportunities for teachers, as well as new classroom equipment and food programs. "We need to have proper desks, tables and chairs, and ensure that the students are comfortable and not hungry while learning," he says.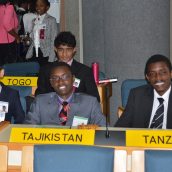 Like the economists and philosophers he greatly admires, Kelvin also contemplates larger structural reforms. Kenya currently follows the 8-4-4 model, entailing 8 years of primary education, 4 years of secondary education and 4 years of university education. "The way the system is organised," he says, "there are people who graduate each year, but there are not enough job opportunities awaiting them." He thinks that by trimming the number of primary school years, increasing the length of secondary school and inserting more time off in between, perhaps more people could find stable employment.
While Kelvin's ideas are still in the early stages, his convictions are mature and rock-solid. "Education is a powerful weapon to fight poverty and help people help themselves," he says. "Education is the only way to face change, be it positive or negative." Unfortunately, he says, the negative is too often outweighing the positive these days, citing recent mass killings in Kenya and tribalism in national politics.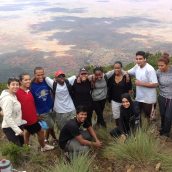 As Kelvin tutors local children and formulates ideas to improve education on a national scale, he is eager to improve his own education, too. He is currently applying to American and Canadian universities that participate in the MasterCard Foundation Scholars Program, which provides comprehensive scholarships to young people from Africa who are committed to giving back to their communities and their continent. He is targeting Duke, his first choice, as well as U.C. Berkeley, Bowdoin, Michigan State, McGill and the University of Toronto. But he knows these scholarships are competitive, and his back-up plan is to take some time off and contribute to school improvement programs in Nairobi's sprawling Kibera slum.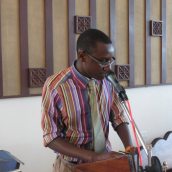 "That's actually one of the questions they asked in the application supplement," he says. "If I don't get the scholarship, there's this organisation, Education for Marginalized Children in Kenya. It's also run by the Aga Khan Foundation, so I'll probably go and work with them for a short time. And from there we'll see."
By Jami Makan