Khona Bhattacharjee: A True Love for Teaching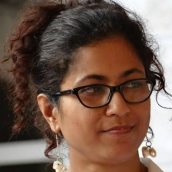 Khona Bhattacharjee is a passionate International Baccalaureate (IB) teacher who is currently teaching Year 5 of the Primary Years Programme (PYP) at the Aga Khan Academy, Mombasa. Khona exemplifies innovation, creativity and dedication to her students and in her career as a teacher at the Academy.
Surprisingly, education was not Khona's initial career of choice. Living in India and having freshly graduated from university, Khona chose to start teaching middle school math and science because it was the most convenient career option for her, though she did enjoy the rapport she built with her students.
But when Khona first started teaching the PYP at a school in Delhi in 2001, she became passionately dedicated to her career as a teacher. "Once I joined the primary school and was teaching PYP," she reflects, "I just fell in love with teaching." This love for teaching found its roots in the transdisciplinary nature of the PYP, and from there her enthusiasm for and commitment to the IB programme skyrocketed.
Particularly, Khona says, it is the process of meaningful inquiry and the collaboration through which her students learn that gives her such happiness when teaching. "I tell them we are learning together so there are times when I may not know the answer and we'll find it together." As such, Khona dedicates her energy to fostering this environment of collaborative learning by giving her students the freedom to understand what they are capable of and allowing them to take responsibility for their own learning. This, of course, requires great trust on the part of the teacher as well as the students, which Khona seems to facilitate expertly. "When a child understands that a teacher trusts you, then that child really tries his or her best," she explains. "Stopping for a moment and looking at them…and telling them that I notice your work," is just one way Khona builds trust and respect in her classroom.
Khona's innovation in the classroom setting also helps to create a positive environment for her students. Knowing the importance of technology, she has created a class blog, on which her students must comment weekly. This, she says, allows them to become better writers. Khona comes half an hour early to the school almost every day to allow those students without computer access an opportunity to complete the blog assignment using her computer. She also creatively ensures that her students feel appreciated. She occasionally posts an update on Facebook about a particular student's outstanding efforts, which the students love.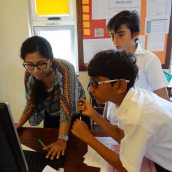 Khona's creativity and innovation come from an abundance of experience. In 2009, before she moved to Mombasa, Khona trained as an IB workshop leader for schools in the Asia Pacific region. Her goal for this year is to change her regional focus for the workshop leader position, so she can better her skills as an IB teacher. Khona also tries to improve her teaching skills daily by trying new things in the classroom, which, she says, the Academy grants her the freedom to do. "Nobody is stopping me from doing anything I want to try…no one is stopping you from making mistakes," Khona explains. This, she believes, is the best way to learn what works in the classroom and is what she particularly admires about the environment at the Aga Khan Academy in Mombasa.
Khona also praises the diversity and ethic of pluralism at the Academy. She explains that the children are able to speak out because they are confident that they will be accepted. "Pluralism," she says, "is really ingrained in the children." Khona says the Academy is a "healthy community where children feel safe to express themselves."
Khona sources her enthusiasm and spirit from this healthy, diverse community of students. She professes that her satisfaction comes from being "able to serve the community in some way" which "boosts [her] energy every morning." 
"You see how beautifully you can engage the children and how beautifully you can actually make them love learning," Khona explains. "That's the goal we want to achieve as teachers, that [the students] love learning."
By Jahaan Pittalwala