Leslie Mwandawiro (Class of 2014): Optimistic About the Future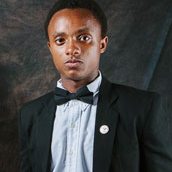 "The Academy's maxim, 'The Center of Excellence' does not sell itself short. It truly is the value of excellence and the desire to always do the best that I can that the school has been able to most successfully instill in me. This value is of definite significance to my future plans because at university, in a sea of people discovering their interests and passions, it's the ability to push oneself to absolute limits in whatever they choose to do that will be a distinguishing factor."
Leslie Mwandawiro, who graduated from the Aga Khan Academy Mombasa in 2014, has been accepted to Simon Fraser University, in Burnaby, Canada on an African Major Entrance Scholarship whose value totals at slightly above $100,000. He intends to major in Finance and Accounting.  
"I'd have to attribute my winning of the scholarship to the Academy's insistence on working beyond my comfort zones," he says proudly. "This was notably achieved by encouraging students, including myself, to excel in whichever fields they are passionate about: be it sports, academics, public speaking or even service activities. By doing so, at the end of their time at the Academy, the students can exhibit leadership qualities in the activities they have chosen to pursue. This puts them at an advantage when applying to university," adds Leslie.
He believes that education is at the core of addressing many of the significant problems people in Kenya face, such as racial violence and unemployment. "Education is effective if it is implemented in the backdrop of stable socio-economic statuses of the people involved such as steady supply of water, food and homes," he says. Leslie feels that in light of how the IB approaches the world, with people's problems being inherently different and varying from area to area, it would be more effective to equip people with the tools to solve their problems rather than solve them for them. "Plus in the long run, the people can become self-sustaining," he adds. Leslie definitely wants to see the economic and educational situations of the impoverished in Kenya strengthened.
When asked how he felt about the IB curriculum, Leslie replied that the "IB curriculum focused more on how to think and how to approach problems, rather than being focused on 'static knowledge.'" Leslie found the rigour of the program and the competitive presence of intelligent peers at the Academy to be truly unique.
Leslie was part of the school soccer team since joining the Academy in 2007. He recently completed a year as captain of the school's under 19 boys' soccer team. Leslie was also a member of Your Environmental Voice (YEV) and was elected as the school Ambassador for the Bangladeshi delegation in the Model United Nations conference in Nairobi.
Leslie hopes to graduate from university in 2018 at age 21 after which he wants to complete a Master's degree and eventually return back to Kenya. "I want to study abroad and construct myself there, in terms of experience and expertise because I feel as though there are institutions waiting out there that could really be rewarding to me. I will eventually return home at a point where I'm no longer 'experimenting' but can implement a forward moving idea or product that can benefit the local people," he says very passionately.