Maxwin Omondi (Class of 2015): Turning Inspiration into Success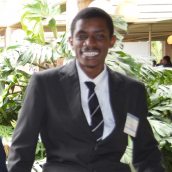 Maxwin is now studying at the University of Toronto on a full scholarship from the MasterCard Foundation, He first came to the Aga Khan Academy, Mombasa in 2009 and left equipped with passion, ambition and determination that make him well prepared for anything the future may bring.
Before coming to the Academy, Maxwin was a student at Maweni Primary School, a public government primary school in rural Mombasa. "The kind of education I was receiving at that school was of relatively low quality compared to what I get in this school," Maxwin reflects. "When I was in the primary school, I felt like I didn't have a vision…my dad was retrenched, and I knew it would be difficult for me to continue my secondary education and pursue a career in university." Maxwin says he feels very fortunate to have been able to attend the Academy and has done everything he can to take advantage of each unique opportunity.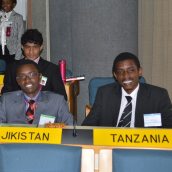 "I enjoy participating in debate," he explains, "so I joined the East African Model United Nations which gave me the chance to attend several conferences in Nairobi." Maxwin revels in these debate activities, taking every opportunity to diversify his perspective and expand his knowledge. "These kinds of activities have opened my mind on how I view current issues and how I should be able to relate to global issues," he describes.
With diverse passions, Maxwin is also heavily involved in athletics. He participates in high jump, triple jump, 100 metres and 200 metres track and field events. He is also part of the school football team. "Even right now," Maxwin explains, "Tomorrow I have a game!" In addition to all this, he also serves as the academic representative on the Student Council and as a dorm captain. 
Maxwin shares that his former dorm parent, Mr. Serem Kipkemoi, is the one who encouraged him in this leadership role. "He encouraged me to be a dorm captain so that I can…serve and help other students [who are] coming to be comfortable with the residence," Maxwin says. "Now I'm a dorm captain in Mr. Serem's block!"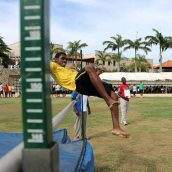 He explains that it has been his various role models and mentors who have influenced his decisions and goals the most.
"In terms of my career, [my brother] is the one who inspired me and gave me the motivation…he's my role model," Maxwin says. His elder brother has been pursuing a career in civil engineering with a goal to be part of the Vision 2030 for Kenya, supporting social development and improving the socioeconomic status of Kenyans. "He couldn't complete his career [training]," Maxwin recounts, "but I always felt that I wanted to do the same thing as him…I felt the need to continue with his mission." 
And Maxwin has indeed been pursuing this same goal. "My vision of pursuing engineering…will enable me to work with communities around Kenya and Africa in general and improve social and economic development that is currently not in good shape," he explains. 
Maxwin has expanded his ambition to pursue a career in civil engineering into aspirations to better the lives of the people in Kenya: "Most people around Mombasa, including my family, are low income earners, so it's disturbing when natural disasters take place…one of my aims is to lift that barrier." In addition to being part of the Vision 2030 for Kenya, Maxwin wants to share vital skills with farmers to improve their standard of living. "If I teach them the skills, then they'll be able to sustain themselves," he explains.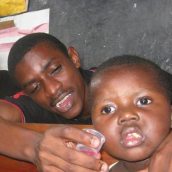 This aspiration to better the lives of others has been inspired by another of Maxwin's role models: His Highness the Aga Khan. Specifically, the Aga Khan's mission to institute change by improving national leadership has had a particular effect on Maxwin. "His Highness's vision is actually achievable, and I believe I can be one of the students that can become an effective leader if I get the opportunity to study further."
Another role model for Maxwin is Mr. Naheed Bardai, the Principal of AKA, Mombasa's Senior School. "Mr. Bardai has been there for me for many years. He always has a different perspective that he brings me," Maxwin says. He explains that Mr. Bardai has also challenged him academically: "He's been very supportive in giving me all these ideas and keeping me on my toes every time…he was my extended essay supervisor and was the one who gave me the idea that it would be better if I base my research on something that I am more passionate about."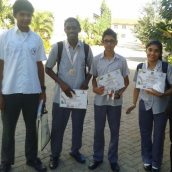 Following Mr. Bardai's advice to research something he really cares about, Maxwin produced an outstanding extended essay on the agricultural productivity of cashew nut farming in Mombasa. Combining chemistry and economics, he focused on the measures that farmers take to improve productivity and its effects on farmers' income levels. "I did surveys with farmers and collected data on the kind of measures they consider… I was able to realize that the kind of fertilizer they were using had too much nitrogen and phosphorus which was not good for the plants." Maxwin says this information is beneficial because it will help farmers not only increase their crop yield but will improve their overall income and standard of living. "I felt it would be important for me to research how these farmers can increase their overall income levels, so they can use it to sustain themselves."
Maxwin has been helping improve the lives of those in and around his community for many years. When he was in Year 9, he had to undertake a personal project. Maxwin chose to base his project on service in the Maweni community. "I understood the kind of problems we faced," he explains. "One of them was lack of educational resources... I felt that using my personal project as a short-term goal to support my former school would be commendable."
In this personal project, Maxwin developed an entire school library of 500 books for Maweni Primary School. In 2011, he decided to continue this endeavour, turning it into a long-term project. He developed an academic exchange programme for students from Maweni Primary School to go to other schools in the area to diversify their learning experience.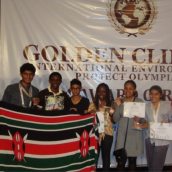 Maxwin has also been successful in the field of science. "The school gave me an opportunity to represent the Aga Khan Academy, Mombasa in the Golden Climate International Competition," he shares proudly. "I was able to build an electric generator which was propelled by a magnetic field." Not surprisingly, Maxwin excelled. He came first in the national competition and then went on to the international competition in Nairobi where he represented Kenya and came fourth.
The opportunity for education at the Academy changed not only Maxwin's life but also those whom he has already impacted and will impact in the future. "I've enjoyed my time at the Aga Khan Academy, Mombasa," Maxwin reflects. "I feel like I've developed and matured over time…Every time I learn something new and interact with different people, I'm able to adjust and be more open-minded in the way I see things."
By Jahaan Pittalwala
For Newsletter readers, return to the newsletter here