Nafisa Abdul Hamid (Class of 2011): Taking On New Challenges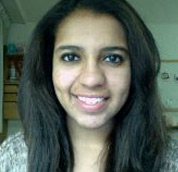 Nafisa Abdul Hamid graduated from the Aga Khan Academy in May 2011. She is now majoring in Political Science with a minor in International Studies at the University of Alberta, Canada after receiving the University of Alberta Global Citizenship Award for IB students from the Aga Khan Academy. Her education at the Academy is helping her deal with new challenges at the university. "I am more open-minded, caring and knowledgeable, and generally have a broader perspective on world events, compared to other students here." She values the IB curriculum and says, "IB taught me how to research, write academic papers, manage my time well and prioritize. It definitely shaped the way I think and study."
Nafisa remembers the Academy and her teachers fondly as well as her time at the beach. "I am so blessed to have completed my high school at the Academy. My counselors and teachers were so helpful and supportive through each and every step." Nafisa's most unforgettable experience at the Academy was being voted as the first student body president to run the Student Representative Committee.
At the Academy, she was involved in several community service projects including leading a group of 60 students to a village in Bombolulu (on the outskirts of Mombasa) to undertake a de-worming initiative where they created a "clinic" to administer medication to over 300 children who had the potential of being infected with intestinal worms. In addition, Nafisa also helped the Aga Khan Hospital, Mombasa with their Breast Cancer Camp and worked with the Colobus Trust, Mombasa to help build bridges for endangered Colobus monkeys.
Nafisa continues to take active interest in voluntary activities at the university where she is an active member of the Student Network for Advocacy and Public Policy. She is also part of the Arts Leadership Cohort at her university residence and will be organizing a major fundraiser for "Free the Children Sierra-Leone". She will graduate from the university in the spring of 2015 and aspires to get into law school and also hopes to someday work for the UNHCR and that would mean, returning to Kenya to work with the large numbers of refugees in the northern region.