Sarrah Sheikh (Class of 2010): Redefining Boundaries and Excelling Academically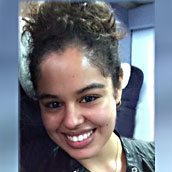 "Throughout my life, I have always been taught that a good education is something priceless. Some of the greatest experiences in my life have happened because of the education I have been lucky enough to receive."
Before Sarrah Sheikh joined the Academy, she would not have believed that she would go through the IB Diploma Program and win a scholarship to university. "One of the most important things the Academy has taught me is how to constantly challenge myself and redefine my boundaries." The Academy has helped her to push past her mental limits to excel academically, as well as giving her the confidence to try new things. "I have become more comfortable with taking risks, and I have learned not to become complacent with success. In the future, I plan to use these values to do my best to give back to the community I live in, and hopefully instil these values in others," she says confidently.
The university counselling that Sarrah obtained at the Aga Khan Academy, Mombasa was very useful in helping her to apply to various institutions. "I managed to get my first choice of university, and I found the process fairly easy and straightforward with their help," she says.
Sarrah graduated from the Academy in 2010. She spent the next year working in the Admissions Department of the Academy in Mombasa. In the summer of 2012, she also completed an 11-week internship with Champions Life Academy, a recruitment and training organisation. Sarrah is currently in her final year studying English Literature and International Relations at the University of Reading in the UK and will graduate in July 2014. "I believe the Academy prepared me very well for life at university. Being surrounded by the multicultural environment in school helped me quickly make new friends that I am still very close to, and has made my university experience that much more enjoyable."
Before Sarrah graduated from the Academy, she spent some time working at Education for Marginalised Children in Kenya (EMACK) under the umbrella of the Aga Khan Foundation. During her time there, she was able to learn a lot about trying to promote the education of girls, and she was also part of a team that helped initiate programs to encourage student governments in schools that EMACK is involved with. 
Sarrah values the IB curriculum because she believes it truly helped her to become an all-rounded individual. "I was only able to take the Diploma Program of the IB, but even so, I realized how much more open-minded it made me. By constantly pushing me out of my comfort zone, I was able to realise I was capable of much more than I thought," she says proudly.
In the future, Sarrah would like to focus on education. "I have been able to see how much it benefits people, how it can enrich lives and lead to great accomplishments. I believe that education is the key to addressing the root of many problems people face in the world today, and that giving children access to this is the way in which to ensure the improvement of their lives and those around them," she says. "If I had all the resources at my disposal, I would try to make this kind of education as accessible as possible," Sarrah adds emphatically.