Sheliza Ramji (Class of 2008): Currently working for AKF, Canada in Ottawa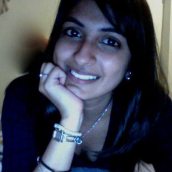 Sheliza Ramji, a 2008 graduate from the Academy, finished a co-op degree in International Development Studies with a minor in French, at the University of Toronto, Canada in 2013.  She is currently working for the Aga Khan Foundation Canada in Ottawa as the Program Administrative Assistant. After a year of working with the foundation, she recognises how fortunate she is to be immersed in an environment where she can interact with remarkably learned individuals on a daily basis and move a step further in her career.
During her studies, she undertook a nine-month internship with World University Services of Canada, a Canadian NGO, working as a communications intern to improve the socio-economic conditions of workers living in and around the tea plantations of Sri Lanka. She describes this as a "humbling opportunity to explore my interest in women's rights and empowerment."  She quickly realized that for there to be improvements in the socioeconomic conditions of tea workers, changes within the political structural systems in which gender inequality was deeply rooted, were required.
During her three years at university, Sheliza involved herself in various extracurricular activities such as volunteering at a senior's home and with the student's residence council. As an executive member of the Ismaili Muslim Students Association, she coordinated events between different universities in the Greater Toronto Area and also conducted daily prayers in the campus prayer room. "The reason why this has been one of my biggest services is because this was not a regular leadership position given that it entailed a spiritual/religious perspective as well. I strongly feel this has played a big role in my personal development," she says.

Graduating in June 2013, her university degree gave her an opportunity to pursue this research and produce an honour's thesis – her biggest accomplishment to date. It also acted as a foundation and gave her a sense of purpose in the next steps of her career. After gaining an appreciation for policy-making, she now hopes to pursue a Master's in International Affairs and policy in the near future. She strongly feels that an understanding of policy will enhance her international development background, enabling her to pursue her aspiration to work for women's empowerment in Kenya.
The Academy, the constant guidance from its teachers and the IB curriculum has played an important part in Sheliza's life, providing her with the skills and knowledge to prepare her for the future. She says, "The Academy gave me a much stronger and broader platform from which I was able to face different challenges that came my way."
Sheliza's most unforgettable experience at the Academy was when she sang in the school choir in the presence of His Highness and His Excellency President Kibaki at the inauguration ceremony in 2003. One of the things she misses the most about the Academy is the fact that there was always someone around to help with problems both in and out of the classroom. "I miss walking amidst the familiar smiling faces of students, supporting staff and teachers," she recalls.
The most important values Sheliza learned while at the Academy were honesty, having a positive attitude and being a good team player. "The pluralistic approach that the school seeks to instill in all its members is the key in preparing students for university and is what makes our school different from the rest. Keeping an open mind, I have learnt to appreciate and respect different cultures. Together these two qualities have made adapting to new countries [Canada and Sri Lanka] much easier for me," Sheliza says.