Shouquot Hussain: Inspiring Students through Passionate Teaching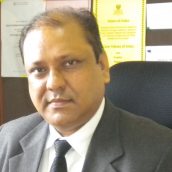 Vice Principal and International Baccalaureate (IB) Diploma Programme Coordinator, Shouquot Hussain tells a heartening tale of his work at the Aga Khan Academy in Mombasa.
Armed with a Master's degree in English Literature and a degree in teaching, and with nearly two decades of teaching experience, Shouquot is very well qualified to teach his current Diploma-level classes in English and Theory of Knowledge. He also has international recognition as an IB professional, having presented at the IB Asia-Pacific Annual Conference in Melbourne, and having received an invitation to present at the Global Language Convention in Atlanta. He has also written for the IB World magazine.
Shouquot brings this wealth of experience to his work at the Academy. He is passionate about teaching and about his subject, and is able to convey this passion to his students. "The fire in your belly will ignite the fire in them," he says. "If you love the subject, the students, the teaching and the classroom, they will fall in love with the process too."
Highly energetic and dynamic, Shouquot goes to great lengths to ensure his teaching is student centered.
"My work is totally student centric," he says. "Not organization centric, not me centric. I do everything to ensure students learn to exercise choice and become capable of taking brave and independent decisions that are ethical and principled. Therefore, what I do may not be unique, but the degree to which I take it might be."
Shouquot highlights mutual respect as the most important element of the teacher-student relationship, saying, "Respect is key. If students have professional respect for your expertise in the subject, they will pay attention to you. If they have personal respect for your integrity and work ethic, they will listen to you. If they see enough evidence that you genuinely respect them as individuals and do not condescend or patronize, they will believe in you."
His results speak for themselves. He has marched through his two years at the Academy with excellent marks and has been lauded by his students as a model teacher and instructor.  "Thanks for not only being an amazing English teacher but also an inspiring role model," wrote one student recently. "You…have made English my favourite subject," said another.
Shouquot also mentors students outside the classroom through his role as a Dorm Parent in the Academy's residential programme. He talks about the quality of the residential experience for students.
"I have worked in many International Schools and IB schools and witnessed a number of residential programmes. But I can categorically state that the residential experience at the Academy here is the best I have come across. The inclusivity, the bonding, the systems and processes are most productive, performance and growth inducing – and equally importantly, happiness inducing. I can say this with authority because this is my second year as a Dorm Parent here and I have the insider's lens."
Another unique aspect of the Academy is the Curricular Strands of ethics, pluralism, economics for development, cultures, governance, and civil society. These play a vital role in Shouquot's teaching.
"The Academy's IB programme is rich, because it is infused with the Academy's Strands," Shouquot is quick to note. "It is vision which looks at empowering students to care for their communities, it is Strands which lead students to retain their humanity while pursuing lucrative goals, it's extraordinary support of student-led projects, the autonomy it allows students and teachers in the creation of sustainable community initiatives and setting academic benchmarks, and the all-encompassing extended family feeling – one world, one people, one village – that truly celebrates differences and does not just pay lip service to the notion."
In his view, a climate of pluralism thrives and continues to thrive at the Academy because students become "colour blind."  How do students from different racial, ethnic, and faith backgrounds work together?
"By forgetting that they are from different cultures and races. By being colour blind and culture blind. Pick up the best from one another and become a global citizen – transcend the imaginary boundaries of countries and ethnicities. Am I asking students to abandon roots? No. I am asking them to acquire the wherewithal to be able dig roots anywhere. THAT is pluralism."
While his teaching style is student centered, Shouquot believes it takes more than a good teacher to educate students to be successful.
"Education is essentially a three way process, with the teacher, the student and the parents being the stakeholders. I involve parents right in the beginning even before I start teaching the child – and discuss the child's subject choices. If I find a child has chosen a subject under pressure from parents, I renegotiate with the parents and try to get them to agree that the child be left alone to choose subjects he/she loves. Thereafter, I keep updating parents regularly on specific issues the child might need support with from parents. Parent-teacher meetings are opportunities I really look forward to, primarily because knowing the parent better helps me know the child better."
Radiating pride and ambition for his students, Shouquot says of their work, "Most interesting, mostly original and thought provoking – always a delight. Richard Bach said in his groundbreaking book Illusions, 'You teach best what you most need to learn.' So true. I have learnt so much from my students."
 By Perviz Walji