Zacharia Makinga: The Importance of A Holistic Education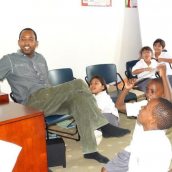 Zacharia Makinga is proud to be the music teacher for all students in the Junior School at the Aga Khan Academy, Mombasa. With a Bachelor's of Education in Music from Kenyatta University and over 17 years of experience in the field, he has an abundance of experience in and passion for teaching music.
Zacharia believes the Academy is the ideal place to pursue his passion. "I was attracted to the Academy by its belief in providing a holistic education," he says. Zacharia strongly believes in the importance of this holistic education and the centrality of music in achieving it. Through music, he says, he is able to teach empathy, compassion, and sensitivity to his students. In his music class, the students are able to experience the "ethos of hard work and the joys of success." These important life lessons, Zacharia explains, are magnified by the unique education system at the Academy that "steers the students towards the path of…solving real-time problems."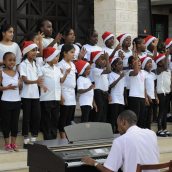 But this process of learning is not limited to the students. Zacharia himself is also learning and growing through his time at the Academy. He is challenged every day to bring his best to the classroom and for the students. He feels as though he can meet this and other challenges with confidence because of the opportunities for professional growth and development provided by the Academy. This, Zacharia explains, makes him feel as though he is truly an integral part of the Academy's curriculum.
What is most important to Zacharia, however, is his students' well being. "I believe it is important for a teacher to be personally interested in the welfare of the students so that one is able to win their trust," he says. To ensure he achieves his goals as a teacher, Zacharia takes the time to demonstrate to his students that he sincerely believes in their ability to succeed. He explains that this trust and confidence will "propel the student to build their confidence and esteem."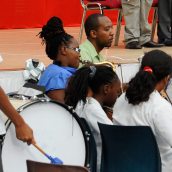 For Zacharia, this is most rewarding. "I view teaching as one way I can share my gift of music with others," he explains, "and at the same time be one of the people who can impact the life of young people in a very direct way."
By Jahaan Pittalwala