Zilna Rajesh Shavdia (Class of 2011): Bringing Leadership Skills to Life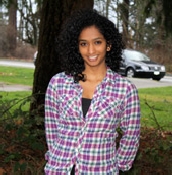 Zilna Rajesh Shavdia graduated from the Aga Khan Academy in 2011.
She is a student at University of British Columbia (UBC) in Vancouver, Canada pursuing a major in Visual Arts and a minor in Economics. She expects to graduate with a Bachelor of Fine Arts degree in 2015 and later pursue a Masters degree in Architecture. Her ultimate goal is to become an architect and return back home to Kenya where she can put the knowledge that she has gained at the University into practice to help her people and mankind as a whole.
After graduating from the Academy, Zilna went back to serving Education for Marginalized Children in Kenya, a project under the Aga Khan Foundation. "It challenged me as a student, a leader and as a human being," she says. She continued her research on 'How art can be used as a therapeutic tool for healing traumatized, abused women.' "What started as just a topic for my Visual Art course and Extended Essay has now turned into a passion, as I am now joining various clubs and volunteer institutions, in and off campus that work towards helping the traumatized survivors through art," she says. At UBC, she is the Social Director of the First Year's Committee and is responsible for responding to the needs of all first year Arts students by organizing events.
Zilna's most unforgettable experience at the Academy was the CAS, Creativity, Action and Service programme that she says, "Has taught me how to bring my leadership skills to life. It is here that I learnt one of my life's biggest lessons; True Happiness does not lay in what you have, but in what you give,". "My first year has not been as tough compared to my peers from other international schools as I am used to the heavy workloads and advanced research and scholarly writing skills practiced at the Academy," she adds. "I adore the IB Curriculum due to the core values that it entails. These together, with the ones added to the program at AKA, Mombasa by His Highness the Aga Khan, are the key ingredients to creating true, well rounded leaders," she says.
Zilna misses the Academy, the people and the sense of community that is there. "Everyone from the students to the teachers, administration and support staff has a communal bond that ties us all together. Being in the Academy, I have grown up in a multicultural and pluralistic environment that is open minded to people of different faiths, cultures and backgrounds. Hence, I found it very easy to adapt to Vancouver and its people. My school, AKA, Mombasa will always be home to me no matter how old I am."