Year 1 Open House 2 February 2018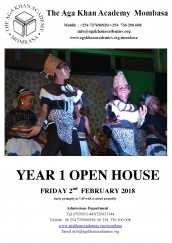 Curious about our unique curriculum? Or about our countless opportunities for your child to explore?
On 2 of February the Aga Khan Academy Mombasa will be hosting a Year 1 Open House for those who are interested in learning more about our Academy. Please arrive promptly at 7:45am for our school assembly. We look forward to seeing you there.
Click on the link below to view more information.