Arzoo Rajpar: Making her dreams a reality
The 2017 – 2018 academic year will be my fourth and final year at the Aga Khan Academy in Mombasa. As I approach graduation in June 2018 and reflect on the person I was when I joined the Academy from Dar es Salaam, Tanzania, I am grateful for how much I have grown as an individual and the opportunities I have been able to access.
Through the Academy I have made many of my dreams a reality. I created a project to advocate for the rights of people with albinism in Tanzania, I have ameliorated my skills within the arts, I have coordinated a youth organisation, and most importantly I am a leader and work hard to have a positive impact on my peers.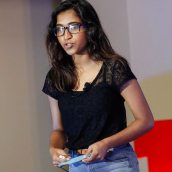 I am extremely passionate about fighting for the rights of people with albinism in Tanzania. I have always wanted to do something to help the disadvantaged and underprivileged within my community, and I was first able to do so at the Academy in Mombasa. In Year 10 I filmed a documentary for my Personal Project raising awareness about the stigma and plight surrounding persons with albinism, with an aim to educate both the Tanzanian and Kenyan communities on this issue. I continued fighting for this cause through my TEDx talk at the Academy called "Souls Worth Living Too" where I spoke about the issue and my project, encouraging others to take action as well. This was a huge step for me, and the talk was shared on the official TEDx YouTube page.
I chose to continue this project through my Extended Essay, investigating the way in which the discrimination of people living with albinism in Tanzania affects their level of development. The experience I had while conducting research was eye opening. Although change has been made over the years the Tanzanian community still has a long way to go. I want to continue this project in a more artistic and service-oriented way once I graduate this academic year. I plan on doing so mainly through photography and film projects as well as confidence training, awareness and literacy programs.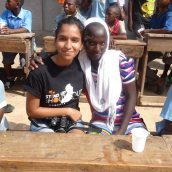 Furthermore, the Academy has given me the opportunity to carry out other projects for causes I am equally passionate about such as women's rights and feminism. I am currently the Director of a youth organisation called Stand Up Shout Out (SUSO) Mombasa which carries out several projects in areas such as the environment and education. This year I created a new project known as "Stand Up Shout Out Against Rape Culture Campaign". Our first event was a Mombasa-wide conference in which students from different schools and socio-economic backgrounds came together to discuss this issue and provide potential solutions. This was a dream come true for me as I was able to create a project to tackle this issue that is deeply rooted within our communities and often disregarded.  Before I graduate and in my capacity as Director I would like to complete the SUSO Feed A Soul Khadija Library project, where we are building a library for the children of Khadija Primary School.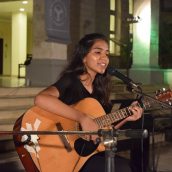 Music is also an area that I am deeply passionate about. Although I grew up in a musical family, I was able to grow tremendously as a musician once I joined the Academy. In addition to being an active member of the school choir, I write my own music and perform both inside and outside school. Being part of the school choir has allowed me to acquire more skills and to become a stronger singer and musician. Most importantly it has boosted my confidence and allowed me to encourage other musically-talented students to explore music and to help them grow in this area. There is nothing more rewarding than assisting someone in developing their ability to express themselves, to show their passions and to produce art. Music is a huge part of my identity, and at the Academy, I have been able to foster this part of myself.
In Diploma One [first year of the Diploma Programme], I was the Student Council Expression Representative. This role was extremely fulfilling and greatly contributed to my personal growth. I ensured that I would use my position to do the most and the best for the student community at the Academy in Mombasa. I pushed myself to come up with different and innovative ideas, and create opportunities that allowed students to express their talents and passions. Some of the projects and events I introduced include a Musical Theatre enrichment, a Coachella Festival aimed at allowing students to share their talents in visual and performing arts as well as music. 
Following this, I was elected as Student Council President for the 2017 – 2018 academic year. Through this opportunity, I have gained new skills and been exposed to new experiences. As President I feel as though it is my duty to be approachable, relatable and a friend to every student in the school. I want to ensure that the student body is able to express their thoughts, that individuals are able to grow in different aspects of their lives and that every student finds their passion within the Academy.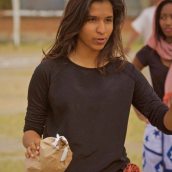 Being a part of the Aga Khan Academy Mombasa community has allowed me to grow tremendously, to express my talents and passions, to fight for what I believe in and to have a positive impact on those around me. Through the various activities in which I have participated and the leadership positions that I have held, I believe that I have discovered my identity and what I want to achieve in my life. I intend on pursuing architecture, a discipline that will allow me to combine my love for art, my intellectual interests as well as my long term goal to serve my community in Dar es Salaam, Tanzania.
Although I have chosen a career path, I will continue to do music, photography, film, visual art as well as community and service due to the fact that these are all areas which form my identity and that I am passionate about.
I am very grateful for the lessons and education I have received and believe that the Aga Khan Academy in Mombasa has equipped me with the skills and experiences to achieve my long term goals.
By Arzoo Rajpar