Christine Robertson: From Canada to Kenya
Christine Robertson is a veteran Ontario teacher who began a secondment to the Aga Khan Academy (AKA) Mombasa in April 2016. She talks about her experience of coming to Kenya and her first days of getting to know the Academy.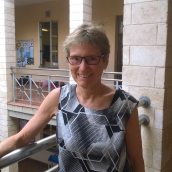 I have been involved in teaching and research, in a variety of capacities, since 1989. I always consider myself fortunate to be an educator. Each day brings something new to my experience and every student interaction is fresh and different. I have taught primarily with students in grades 4, 5, and 6; we refer to these as the junior grades in Ontario. I have also been involved in outdoor education and have taught some teacher preparation courses in classroom management. My research has included environmental education and exploring student learning through oral communication: classroom talk.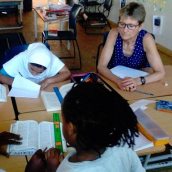 My understanding of the work I would be doing here has definitely evolved over the past five months, since I first applied for the position, and then learned I was successful. When I sought the position, it was because the timing was right for me, both personally and professionally. The previous summer I had realised that, with both of my sons now on their own, I needed something new and challenging in my life. I had always wanted to teach outside of Canada, and so I decided I would begin looking for opportunities, such as teacher exchanges. It seems that I was 'open' to possibility when the information about the teacher secondment suddenly and serendipitously appeared in my electronic mailbox. The new school year was just beginning; in the midst of planning for teaching, I pulled together my CV and composed a covering letter.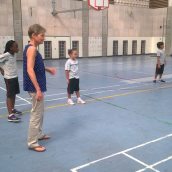 This would be a chance to work with both students and teachers; a great opportunity for learning, as well as for sharing from my own experience and training. At the time, though, I was unfamiliar with the PYP [Primary Years Programme]. I've known about the IB [International Baccalaureate] programme for some time, but only as an option for high school students interested and motivated to pursue an alternative curriculum. However, once I began to understand the PYP, I realised it aligned with the project-based and inquiry learning that had already been a part of my own practise. This comes from my background in experiential education.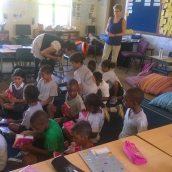 Both at the Ontario Ministry of Education, and now here at the Academy, I have been warmly welcomed. I am overwhelmed by the number of people I have met over the last few weeks, both in Toronto and here, in Mombasa, and hope I will soon have a more reliable recall of names (so, to everyone here, I apologize for not yet remembering who you are and what, exactly, you do! With time and repetition, I will catch on.)
Currently, I am spending time in classrooms, learning more about the PYP programme and observing several teachers in action. One of my tasks is to identify ways in which I can collaborate with colleagues here to exchange teaching ideas, to engage in ways that can contribute to the evolution of the AKA PYP, and to enhance and strengthen my own teaching practises in such a way that I can support teacher and curriculum development in Ontario. Gaining experience and understanding and exchanging ideas in a new cultural context is another goal that I have already begun to pursue.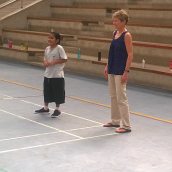 Sometimes I have moments when I feel I have not been able to accomplish much…and then I realise I have only been here for 12 days! In that time I have survived several solo excursions across the roads to the Nakumatt [market], and  journeyed in many
tuktuks
and
matatus
. I have been on a year 4 field trip to Shimba Hills National Reserve, and have seen some very talented students in action as ambassadors at an Academy orientation. I have been to Nyali, Tudor, Likoni and Old Town, and have walked along the beaches on the North Coast. I am beginning to converse in the PYP language and have a reasonable understanding of all that the year 5 exhibition entails. My Kiswahili vocabulary is slowly increasing and I have only been locked inside the library once. I have even been to the Nyali Cinemax…twice!
This is an exciting journey for me, in many ways; it is a journey to a beautiful country on a continent far from home, a journey into new cultures, language, and way of life, and a journey of personal and intellectual experience. 
Thank you to everyone who has worked so hard to assemble and nurture this project; I am appreciative of the chance to be a part of this partnership.
Newsletter readers please click here to return to the newsletter (browser version)