Inaara Gangji, a second-year Diploma Programme student at the Aga Khan Academy Mombasa, shares her experience of joining the Academy's award-winning choir, Voices for Change. The choir is making a difference not only through their music but also through their social service work in the community.
I first heard about the Aga Khan Academy Mombasa Voices for Change before I joined the Academy, when they had the opportunity perform on national television. I was intrigued by this and was eager to find out more about the group. When I joined the Academy in August 2015, I signed up instantly for the choir seeking a new experience. One year on, I feel that being part of the Academy's Voices for Change has helped me grow as an individual by reaching out to the community using my talent and creating bonds that will last a lifetime. 
When one joins a choir, one expects to get a bit of voice training, sing at school events and write a good CAS (creativity, activity, service) reflection. However, the Voices for Change is unique in the sense that it is more than a choir; it is a family, a group of close knit individuals who are determined to use music to make the world a better place. In this one year, I have forged lifelong relationships with extraordinary individuals, whether it be our exemplary Choir Director, Mr Philip Mbinji or my gifted counterparts whom I sing beside. 
According to Mr Philip, the choir had humble beginnings, starting small and eventually forging its capacity into an unstoppable force. Although in the past there were issues with the gender gap in the group, over time it showed its ability not only as a music group but also as a platform to grow. Male membership has now grown to expand the bass voice, with younger ones also joining soprano. 
What I found really fascinating was the amount of time and effort Mr Philip puts into the Voices for Change. It is as though he has no other commitments, with him staying till late evenings, foregoing meetings and using lunch hours and weekends to polish our pieces. They say everything is a two-way process: you get what you put in, and his work has really helped the group reach milestones, especially with the recent accolades our school received at the Kenya Music Festival.
However, the choir is not only known for its consummate music abilities and talent – we reach out to the community so we can make a difference using these talents. Before I joined, the group was involved with Wema Centre for Street Children and helped them fund activities such as a drop-in centre for Mombasa street children. The choir geared events such as the annual Christmas tree lighting concert towards the cause and also regularly participated in events with the Centre, such charity walks and concerts, notably with the Safaricom choir. The Voices for Change also used its popularity in the media to promote its cause by featuring on radio, television and newspaper. 
This year, we ventured out as a group on a new project: to cultivate a reading culture in one of the most impoverished areas of Mombasa: Bangladesh Slum. We initially heard about the schools in the slum and the works of Christian missionaries in the area through our school nurse, who was a former employee at the hospital they run. We then decided to gear all the donations we make from our concerts, such as the one at City Mall and our annual Christmas tree lighting, towards making the festive season joyous for them.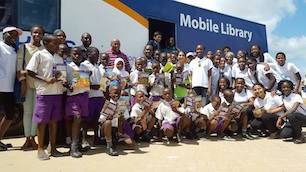 When we went to donate the items we had collected, we were humbled by the experience. It was my first time ever in a slum, and it was also a tedious journey to get there. We were received so well that we really wanted to make a difference in the lives of the children, and so the idea of establishing a mobile library was born. Through Mr Philip's contact in the Ministry of Education, we pitched the idea to them for funding, and they were on board almost instantly. The government actually had a mobile library that they wanted to revive, and we were their avenue to doing so. The launch event of the programme was so huge it was attended by dignitaries in the Ministry and our school, and it was featured on large platforms such as Standard Media, Kenya. That is when we realized the impact of our little idea on the lives of those who are far less fortunate than we are. It is such moments that make one want to change the way one thinks of privilege in this ever-changing world and how it can be used to foster growth in the lives of those who are not so privileged.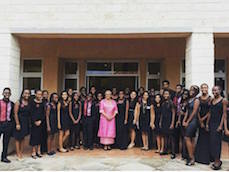 Last academic year ended on an exciting note as we were tasked with performing in front of the First Lady of Kenya who was the chief guest at the graduation ceremony of the Class of 2016. The tiresome practices took up all our free time and even more from our director, and we were approved by the State House to perform just the day before the ceremony. To cut it short, we blew everyone away with our majestic performances of songs written specifically for the event by our very talented choir director. It was beyond gratifying – we even got a picture with her! 
All I can say is that joining the Voices for Change was a journey and still is, at least for a few more months until I graduate from the Academy. What this journey has taught me is selflessness: It's about giving your all and only then expecting results; it's about seeking inspiration from those around you, and most importantly, connecting with people you thought you would never have anything in common with. I see a bright future for the group.

 
By Inaara Gangji, Diploma Programme 2, Aga Khan Academy Mombasa